CHANGE AS A FORM OF EXISTENCE AND A CONDITION OF SURVIVAL
Keywords:
universality of change, economic entities as agents of change, dynamic systems, progressive and regressive changes, technical progress, progress in science, competitiveness, economic growth, business cycles, politically induced redistributions, progress in arts
Abstract
Universality of change is a way of formulating the fact that all entities capable of being observed and even thought of – individuals, their variously formed groups, the society, the world of ideas and consciousness in maximally imaginable number of variegated forms and locations and the universe itself – are subject to change. Speaking of change is tantamount to speaking about all conceivable forms of existence and therefore about the universe of all things we encounter, create or imagine. These are the reasons because of which the subject of change – as a matter of principle – cannot ever be exhaustively treated.
Because of their boundless variety and universality the comprehensively taken space of changes can bi classified in many different ways and, again, the set of classifications is infinite and inexhaustible. Hence only some classifications are singled out so that exogenous and endogenous changes are dealt with and then self-induced and externally imposed changes and changes at different levels of social organization focusing in particular to changes at the level of individual agents and variously defined systemic changes.
References
Akerlof, Džordž i Robert Šiler (2010/2009/). Životni duh. Beograd: JP Službeni glasnik. Prevela Vesna Petrović.
Allen, R.G.D. (1963). Mathematical Economics. London and New York:
Macmillan&Co Ltd and St Martin's Press.
Anderson, Alexandra (1984). Twentieth-Century Art. In Lisa Taylor, ed., The Phenomenon of Change. New York: Cooper-Hewitt Museum – The Smithsonian Institution's National Museum of Design, 104-105.
Andrić, Ivo (1976/1949/). Nešto o stilu i jeziku. U I. Andrić, Istorija i legenda. Sarajevo, Zagreb, Beograd, Ljubljana i Skopje: Svjetlost, Mladost, Prosveta, Državna založba Slovenije i Misla, 32-48.
Arrow, Kenneth (1962). The Economic Implications of Learning by Doing. Review of Economic Studies 29 (June), 155-173.
Bagvati, Jagdiš (2008/2004/). U odbranu globalizacije. Beograd: JP Službeni glasnik. Preveo Slobodan Damnjanović.
Berberović, Jelena (1990). Filozofija i svijet nauke. Sarajevo: Svjetlost.
Bjukenan, Džejms (2002/1975/). Granice slobode – između Levijatana i anarhije. Beograd: Dereta. Preveo Mašan Bogdanović.
Boetke, Peter J. and Daniel J. Smith (2016). Evolving Views in Monetary Policy in the Thought of Hayek, Friedman and Buchanan. Review of Austrian Economics XXIX, 351-370.
Browning, Edgar K. (2008). Stealing from Each Other. Westport, Connecticut and London: Praeger.
Bžežinski, Zbignjev (2001). Veliki promašaj – rođenje i kraj komunizma u XX veku. Podgorica: Vizart. Preveli Boro Peković i Veljko Nikitović.
Dahrendorf, Lord et al., eds., The Paradox of Unintended Consequences. A collecton of papers. Budapest and New York: Central European University Press.
Hajek, Fridrih fon (2002/1967/). Puna zaposlenost, planiranje i inflacija. U Studije iz filozofije, ekonomije i politike. Beograd: Paideia. Preveo Dragan D.Lakićević.
Hayek, Friedrich A. (1990/1988/). The Fatal Conceit – The Errors of Socialism. London: Routledge.
Karsten, Frenk i Karel Bekman (2013). Demokratija – mit i stvarnost. Novi Sad i Beograd: Global Book i Katalaksija.
Klaić, Bratoljub (1956). Veliki rječnik stranih riječi. Zagreb: Zora.
Lakićević, Dragan D. (2002). Filozofija kritičkog racionalizma Karla Popera. Predgovor u Poper (2002/1963/, ss. 5-18).
Lazičić, Goran (priređivač, 2014). Panorama nove poezije u Srbiji. Beograd: Dom kulture Studentski grad.
Mandeljštam, Nadežda (1984/1983/). Sećanja i razmišljanja. Beograd: Prosveta. Prevela Anđelija Demetrović-Matijašević.
Madžar, Ljubomir (2011). Iskušenja ekonomske politike u Srbiji. Beograd: JP Službeni glasnik.
______(2016). Razvojna klopka u privredi Srbije. Referat na savetovanju Ekonomska
politika Srbije u 2016. godini u organizaciji Naučnog društva ekonomista
Srbije sa Akademijom ekonomskih nauka (AEN) i Ekonomskim fakultetom u Beogradu održanom 12. XII 2015. na Ekonomskom fakultetu u Beogradu, objavljeno u istoimenom zborniku, red. Dejan Šoškić i Milojko Arsić. Beograd: Centar za izdavačku delatnost Ekonomskog fakulteta u Beogradu, 209-237.
Mihailović, Srećko (2010). Priča o tranziciji ili naracija o našim beskrajnim menama.
U Srećko Mihailović, ur., Kako građani Srbije vide tranziciju – istraživanje
Javnog mnenja tranzicije. Beograd: Friedrich Ebert Stiftung, 7-28.
Milanović, Branko (2016). Global Inequality – A New Approach for the Age of Globalization. Cambridge, Massachusetts and London, England: The Belknap Press of Harvard University Press.
Miljković, Branko (2002). Sabrane pesme. Niš: Prosveta.
Mishan, E.J. (1982). Introduction to Political Economy. London: Hutchinson.
Mišić, Zoran (1976). Kritika pesničkog iskustva. Beograd: Srpska književna zadruga.
Osiatynski, Viktor (2000). The Constitutional Honeymoon is Over. The Paradox of Post-Communist Constitution Making. In Lord Dahrendorf et al., eds., op. cit. 143-162.
Poper, Karl R. (2002/1963/). Pretpostavke i pobijanja. Sremski Karlovci i Novi Sad: Izdavačka knjižarnica Zorana Stojanovića. Preveo Dragan D. Lakićević.
______1993/1971/). Otvoreno društvo i njegovi neprijatelji. Beograd: Beogradski izdavačko-grafički zavod. Preveo Branimir Gligorić.
Popović, Bogdan (1960/oko 1905/). O pesmama A. Šantića. U Srpska moderna. Priredio Zoran Gavrilović. Sarajevo: Svjetlost, ss. 23-34.
Prokopijević, Miroslav (2015). Liberalni i državni kapitalizam. Referat na savetovanju AEN Liberalne i komunitarne opcije u institucionalnoj izgradnji i ekonomskoj politici, održanom 20. marta 2015. Na Ekonomskom fakultetu u Beogradu, objavljeno u istoimenom zborniku koji je izišao kao specijalni broj časopisa Ekonomske ideje i praksa, br. 16-17, ss. 99-126.
Rev, Istvan (2000). The Self-Not-Fulfiling Prophecy. In Lord Dahrendorf et al., eds., op. cit.,285-300.
Saks, Džefri D. (2014). Doba održivog razvoja. Beograd: Centar za međunarodnu saradnju i održivi razvoj – CIRSD i JP Službeni glasnik. Prevele Mira i Vera Gligorijević.
Skerlić, Jovan (1950/1907/). Filološki dogmatičari i književni jezik. U Midhad Begić i Najdan Pašić, priređivači, Odabrani spisi. Beograd: Novo pokolenje, ss. 447- 449.
Sornette, Didier (2003). Why Stock Markets Crash – Critical Events in Complex Financial Systems. Princeton and Oxford: Princeton University Press.
Stojanović, Božo (2005). Teorija igara – elementi i primena. Beograd: JP Službeni glasnik.
Šaj, Oz (2001/1995/). Industrijska organizacija – teorija i primene. Beograd: Ekonomski fakultet Beograd.
Tasić, Slaviša (2012). Svetska ekonomska kriza – dileme i rešenja. Beograd: JP
______(2016). Šta je kapitalizam i zašto nam je potreban? Beograd: Helix.
______(2016a). Potraga za liberalizmom. Referat na savetovanju AEN Naši naučni sporovi – velike alternative u izgradnji institucionalnog poretka održanom 4. novembra 2016. na Ekonomskom fakultetu u Beogradu, zasad neobjavljeno.
Taylor, Lisa (1984). Editor's Notes. U Lisa Taylor, ed., op.cit., 4-5.
Ty, James Jr. And Herbert E. Walker (1984). Our Psychology. In Lisa Taylor, ed., op.cit., 50-51.
Wagar, Warren W. (1984).The Twentieth-Century Mind. In Lisa Taylor, ed., op.cit. 16-17.
Wiener, Philip P. (1984). The History of Ideas. In Lisa Taylor, ed., op.cit., 20-23.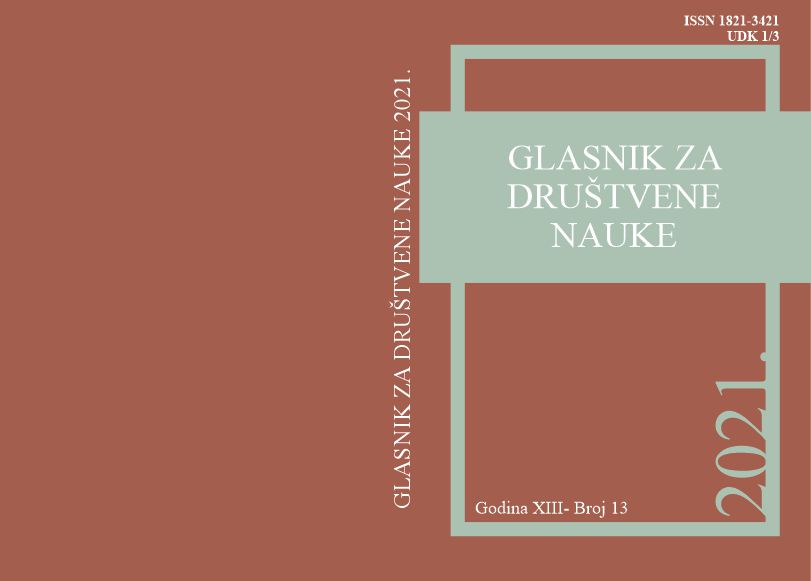 Downloads
License
This work is licensed under a Creative Commons Attribution-NonCommercial-NoDerivatives 4.0 International License.